Happy New Year 2021! As we waived farewell to 2020 it was done with a feeling of hope that 2021 will be a much better year all together. But despite the Covid-19 pandemic, or maybe because of it, 2020 was a quite good year for amateur radio. Breaking through isolation is no news for hams, we are specialists in being social over record breaking distances. Its the essence of our hobby! Since Marconi we have always explored new ways to be on the leading edge of communications. With Covid paralysing the world our knowledge and skills really came in handy.
Social distancing, lock-downs and travel bans also made us more motivated to go off grid with our equipment and many of us experience a new, more minimalistic approach to our hobby. Others found themselves very competitive in contests as big contest teams where not allowed to get together and favourably located contest stations where left empty during the big contests. The playing field was more level than ever before. When DXpeditions were cancelled, there were new ways to explore the bands and build DXCC scores for the avid DX'ers. Many famous DX calls now appear daily on digital modes like FT8 and many started to explore the VHF and UHF bands and new distance records where broken.
At PileupDX.com we had a very successful year. Our business is growing fast and we are working hard to identify new products to introduce to the European market. In 2015 we introduced the SunSDR brand of SDR transceivers to EU, a few years later we made Xiegu's line of low power transceivers available to EU hams. Our most exiting new product launch in 2020 was the Discovery TX-500 transceiver from Siberian company Lab599. This year we also had a big increase in sales of the high end contest filters and products from Low Band System, and in the fall we welcomed microHAM with their clever automation products to our PileupDX.com store.
In our concept store SunSDR.eu Expert Electronics continues to bring us the best SDR transceiver on the market with the most liked user interface. The SunSDR2 DX is a big success and we see more contesters switching over to this platform. In 2020 Expert also announced the new AAT-100 automatic antenna tuner for the SunSDR2 DX, and the first shipment is on its way to us.
Our Xiegu.eu store keeps shipping out the hugely successful Xiegu G90 20W HF SDR transceiver with automatic antenna tuner which is perfect for the newcomer on the bands. It packs great functionality and performance on a tiny budget with also makes it attractive for the country cabin or when travelling. Xiegu keeps developing the firmware and accessories for this jewel, and the G90 is going to have a long life on the bands.
In 2021 we are looking forward to the major upgrade of ExpertSDR3 which is being completely rewritten opening up a lot of possibilities. Watch the New Year video announcement from Expert's RN6LHF linked below.
The Discovery TX-500 transceiver is right now in the testing lab and we expect the CE certification process to be completed very soon after the test have been completed. We have prepared to ship all the pre-orders as soon as we get delivery. As the exclusive EU dealer and distributor we are working on opening a service center for Lab599 product this winter or spring. We are still having units available in the second delivery, so place your pre-order now.
Our first new product announcement for 2021 will be the Chameleon Antenna program. We will stock most of their innovative antenna systems and accessories so you can explore the outdoors with with easily deployed military precision antennas.
Thinking about improving you contest station? Ask us for an offer on any bigger order of filters, antenna switches, stack matches etc. Anything Low Band Systems can build we can deliver to you, even special products that are not listed in our store can be developed and delivered.
Finally we realise that although that the pandemic situation is expected to improve in 2021, there will be a "new normal" after Covid-19. We strongly believe it will benefit amateur radio in a way we have experienced in 2020, and we will continue to look for new innovative products to help you get the most out of your hobby. As you probably already know we are not a general ham store. We select our products and support them with pride and passion. We are active hams using our products and we have an ongoing conversation with our select manufacturers to help them better understand whats important to you as a customer. In 2021 we will continue to improve our business, and we always welcome your feedback!
To further inspire you to have fun with the hobby we have created a few January deals. Check them out below.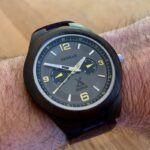 In addition to the above discounts, we are offering a free Xiegu wrist watch when you buy the Xiegu G90 transceiver or the Xiegu XPA125B 100 watt HF & 6m linear power amplifier. All offers valid until January 31st or while stock lasts.
Happy New Year 2021 – CU on the bands and in the contests!
73 de PileupDX team with SM0MDG & SM0MLZ
PS. The photo shows the Discovery TX-500 in action during a hike to Telegrafberget (telegraph peak) south east of Stockholm in fall of 2020.
More information products mentioned above:
RN6LHF Vasily's New Years update about ExpertSDR3 and other news from Expert Electronics.