Search our FAQ, Frequently Asked Questions, to find the answer you need.
X6100 not starting (FW 1.1.5)
We have received reports about a few X6100 transceivers not starting properly. The Xiegu logo is shown, cursor on top left side blinking for a while, then nothing on the screen but buttons are illuminated.
Xiegu confirmed to us that there is a bug in 1.1.5 that will cause this problem if Bluetooth and or WiFi is enabled when powering up the radio. Xiegu is working on a fix, in the meantime consider these two work arounds;
Reload firmware 1.1.5 and turn off Bluetooth and WiFi before restarting the device.
Revert back to firmware 1.1.4.
Both mentioned firmware versions are available from our Xiegu.eu download page.
What would be the total price for shipping to my location?
You can check the total costs incl. shipping in the shop system yourself. After adding the transceiver to your cart, you can calculate the shipping to your location and review the total costs before proceeding to the checkout.
View cart
Locate "Cart totals"
Locate Shipping
Open "Calculate shipping"
Enter your country & address
Click "Update" to see the calculated shipping costs
X6100: Battery indicator show 8.0V after full charge
Q: The battery indicator show 8.0 volt after full charge, but the manual states it should be 8.3-8.4 volt. Is something wrong with my battery?
A: This is normal behaviour. The 8.3-8.4 volt is measured in open mode, once the battery is connected to the load it is 8 volt. When the X6100 is fully charged and the radio is on, pull out external power connector and the battery voltage indicator will show 8.3-8.4 volt for a second, then drop back to 8.0 volt when all circuits are connected.
The information in the manual is a bit outdated as the battery management system has been updated in the recent Firmware editions. We have asked Xiegu to update the manual on this issue.
Added 2022-04-18
X6100: How to config WiFi
To access a WiFi network you need to add a fixed IP address in the network range of your router.
Open WiFi settings found under System menu.
Scroll with MFG to the WiFi network you want to use.
Turn WiFi switch ON, use EDIT / CONFIG.
Navigate to "Password" using CONFIG key, press EDIT to open keyboard and enter the WiFi password.
Navigate to "IP address" using CONFIG key, press EDIT to open keyboard and enter an IP address in the network range of your router.
Navigate to "Gate Way" using CONFIG key, press EDIT to open keyboard and enter the IP address of your gateway.
When the above is completed, press CONNECT.
HINTS: CONFIG key move between settings, EDIT key opens the edit keyboard. Use MFK so scroll between keys and press MFK to press key. Use ENTER to save in field and exit edit mode with EDIT or [X] key.
X6100: "Birdies" with no antenna connected (Nov 22 Update!)
The X6100 is a very advanced SDR transceiver that, unlike most other portable transceivers, features a Cortex A7 CPU on board. Basically it makes it a Unix controlled transceiver able to do things not experienced before in a tiny, self contained and portable unit.
Among other features it has a switching power system which is synchronised to a synthesizer to avoid interference in the receiver. But some of these birdies is noise leaking out of the case and picked up by the antenna connector. When you connect an external antenna this noise will be reduced as the pickup point is moved from the open connector to the antenna feed point.
There are also a birdies produced within the receiver itself which is normal for wide-band receivers able to cover the full HF spectrum. These spurs come from the codec's clock/data lines, they're not easy to avoid. We have suggested a possible solution for this and Xiegu will address this idea.
If you experience birdies that interfere with reception of weak signals on the bands, make sure you have the latest firmware installed as some of these problems are being fixed in FW updates. Xiegu is continuing the work to reduce both kind of birdies mentioned in this article.
Latest Firmware is available on the Xiegu.eu Downloads Page.
X6100: firmware update procedure
The X6100 firmware update is done by uploading the update image file to the transceiver using a microSD card.  The firmware update image file available on our download page, https://xiegu.eu/download.
To prepare the image file, also download the "SD Card Creation Tool" and "Firmware Update Tutorial" from the download page. Follow the instruction in the tutorial to successfully update your X6100.
G90: Firmware update procedure
The latest version of Firmware for the Xiegu G90 is found on our download page, https://xiegu.eu/download.
Follow this update procedure step-by-step;
1. Open Device Manager.
2. Connect the USB serial cable between the PC and rear 'COMM' port.
3. Note the COM port number in the Device Manager.
4. Open ttermpro.exe in the the TeraTerm Folder. This folder is included with the firmware update.
5. In TeraTerm, Click on Setup,
6. Click serial port.
7. Select or confirm port number from step 3.
8. In baudrate select or confirm 115.2K. Click OK.
9. Press any key on the PC keyboard while powering on the G90.
10. Select "1 Update FW", wait for the firmware to be erased.
11. When message – Wait FW File is displayed, click File –> Transfer –> XMODEM –> Send
12. Check the 1K Option
13. Navigate to the folder with the firmware files.
14. Click on the Main Unit FW X.XX file.
15. Click Open
16. Firmware upload starts. When upload completes, turn G90 power off and disconnect the radio from the 12 volt supply.
17. Reconnect 12 volt and turn radio on.
18. Confirm firmware version by pressing and holding FUNC key, chose menu option #10 to display version.
19. Connect the USB serial cable between the PC and display unit COMM port (lower jack on left side of display. Repeat the above steps but chose "display" firmware when prompted for file to upload.
20. Enjoy your improved G90!
X6100: FT8 with Apple Hardware
We confirm that the USB interface of the X6100 and the CAT control is working on Mac hardware. Use the "DEV" USB3 connector on the right side panel, when opening your software's settings you will see two serial ports. Try both, one is CAT and the other TTY.
Configure your logger or other software for IC-7000 with 19200/N81, see screenshot.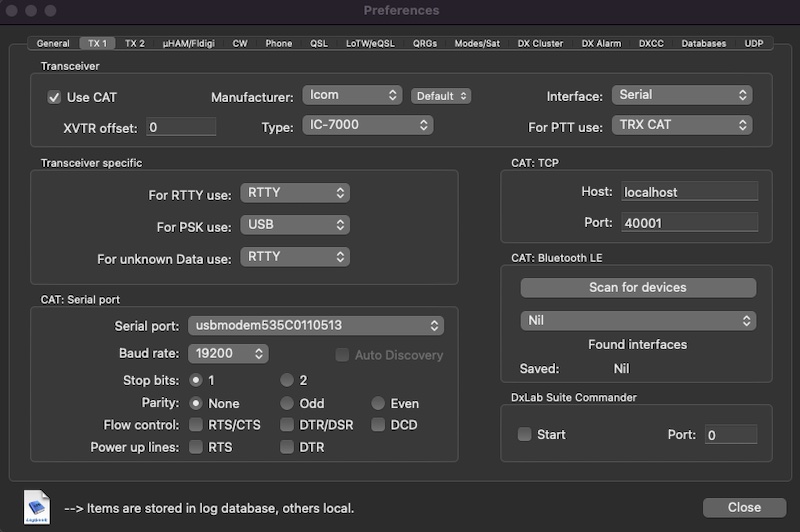 TX-500: Missing audio cable
It is a common misunderstanding that there should be an audio cable included with the TX-500, it is not. Instead the TX-500 includes a GX12-7 connector for you to make your own cable or adapter. As an alternative we recommend this adapter which can be used for digital modes, but also adds an I/Q signal output to use for an external "panadapter".
Battery pack for TX500
At this time there is now estimated release date of the battery pack for TX-500. Sign up for our news letter to get notified when it is closer to release.
How to configure Expert Electronics devices for LAN
STEP 1, get connected;
Install the latest version of ExpertSDR2 from our Download page.
Connect your PC to the SunSDR2 directly with the LAN cable.
Make sure that if the remote desktop application AnyDesk is installed, quit it completely as it uses/blocks the network port user by your transceiver. (Check the system tray as it might run minimised).
In the LAN network settings of your PC change the IP address to fixed IP address with and use 192.168.16.50 as the address. Set Netmask to 255.255.255.0.
Power up your radio. The LED will come on with a fixed GREEN light when the network connection has been established.
When LED is green you should start ExpertSDR2 and open OPTIONS > DEVICE then and click the DISCOVR button to search for the radio on the network. The radio will repsond with its serial number, IP address and port. The default IP address of a new device is 192.168.16.xxx and port is 50001.
Press the EpertSDR2 POWER button and and a firmware update is most certainly requested as the radio is brand new.
After the FW update the radio is rebooted and you can start it and see the spectrum and waterfall move.
Step 2, change IP address of your radio to match your router network range;
When ExpertSDR2 is running, go OPTIONS > EXPERT.
Update the "New IP address" field to the IP address you require.
Change port number if needed (we recommend 50003 if AnyDesk is running on the same PC as ExpertSDR2)
Press SET IP ADDRESS button.
After update, confirm by pressing DISCOVER button and select the transceiver listed on the updated IP address.
How sharp are the ExpertSDR2 RX filters?
RX and TX filter shape factors depend on the filter taps settings in OPTIONS > DEVICE > DSP > FILTER TAPS settings. This document to compares measured shape factors at different filter tap settings. Download the PDF document here.
How securely connect PTT out to an amplifier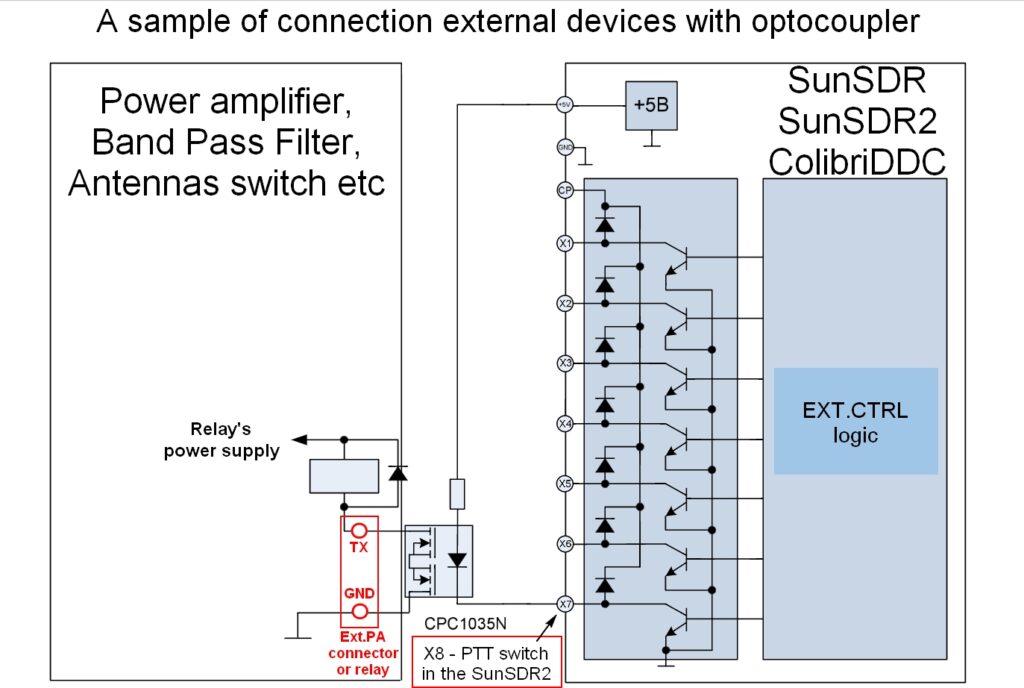 TS-480 TX EQ settings for ModMic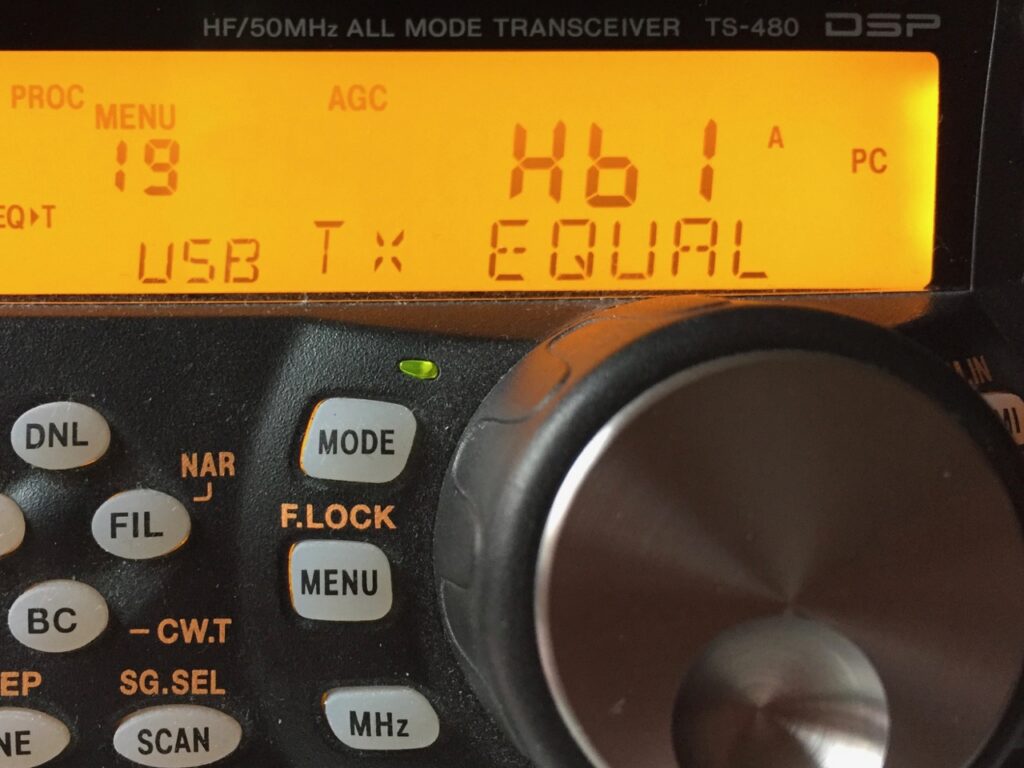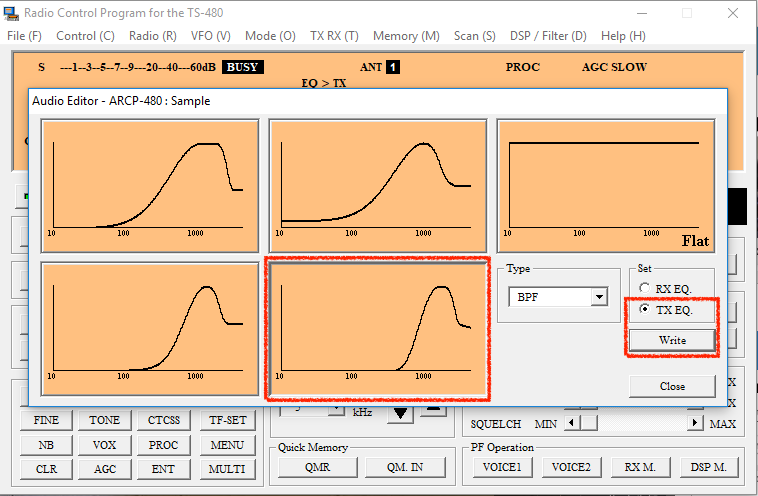 TS-590 TX EQ settings for ModMic
SE0X best practice settings for using ModMic with Kenwood TS-590 and TS-590S.
Adjust TX EQ using ARCP-590 software from Kenwood.
HC-4 sound-alike
0 = -24
300 = -24
600 = -9
900 = -6
1.2k = -5
1.5k = -1
1.8k = -1
2.1k = 2
2.4k = 4
2.7k = 6
3.0k = 4
3.3k = 6
3.6k = 6
3.9k = 4
4.2k = 0
4.5k = -6
4.8k = -12
5.1k = -24
Flat
0 = -14
300 = -12
600 = -7
900 = -4
1.2k = -3
1.5k = -1
1.8k = -3
2.1k = -2
2.4k = 1
2.7k = 0
3.0k = 0
3.3k = -1
3.6k = 0
3.9k = 1
4.2k = 6
4.5k = 4
4.8k = 3
5.1k = 3
(C) 2017 Pileup AB – No portion of this this application note may be reproduced without the permission of Pileup AB.
ExpertSDR2 TX EQ settings for ModMic
SE0X best practice settings for using ModMic with SunSDR2 PRO, SunSDR2 QRP and MB1 from Expert Electronics.
Adjust TX EQ settings.
31 = -15
63 = -15
87 = -15
125 = -15
175 = -15
250 = -15
350 = -15
500 = -3
700 = -3
1.0k = 0
1.4k = 5
2.0k = 10
2.8k = 12
4.0k = 10
5.6k = 3
8.0k = -3
11.2k = -7
16.0k = -15
(C) 2017 Pileup AB – No portion of this this application note may be reproduced without the permission of Pileup AB.
FT-5000 TX EQ settings for ModMic
SJ0X best practice settings for using ModMic with FTDX5000 in contests.
151 TAUD EQ1 FRQ = 100
152 TAUD EQ1 LVL = -20
153 TAUD EQ1 BW = 2
154 TAUD EQ2 FRQ = 800
155 TAUD EQ2 LVL = -3
156 TAUD EQ2 BW = 3
157 TAUD EQ3 FRQ = 2100
158 TAUD EQ3 LVL = 8
159 TAUD EQ3 BW = 1
161 TAUD PE1 FRQ = 100
162 TAUD PE1 LVL = -20
163 TAUD PE1 BW = 2
164 TAUD PE2 FRQ = 800
165 TAUD PE2 LVL = -3
166 TAUD PE2 BW = 3
167 TAUD PE3 FRQ = 2100
168 TAUD PE3 LVL = 8
169 TAUD PE3 BW = 1
(C) 2017 Pileup AB – No portion of this this application note may be reproduced without the permission of Pileup AB.
K3 TX EQ settings for ModMic
SE0X best practice settings for using ModMic with Elecraft K3 in contests.
0.05 -16
0.10 -16
0.20 -16
0.40 -16
0.80 +0
1.60 +7
2.40 +11
3.20 +16
(C) 2017 Pileup AB – No portion of this this application note may be reproduced without the permission of Pileup AB.
How to unlock TX outside of amateur radio bands?
When possible Pileup will perform the modification allowing for transmit outside amateur radio bands upon request. Different manufacturers have different policys regarding unlocking their radios, and some radios are not possible unlocking. We will only apply this mod to transceivers where the "Frequency Extension" mod is listed among the accessories. If it isn't listed, don't add it to your order! You can order this mod to be applied at delivery of your new radio, or you can return it to use at anytime to have the mod applied.
NOTE 1: Please note that amateur radio transceivers specifications are guaranteed within amateur radio bands. Use your transceiver in accordance to your licence  and always follow local regulations. You are responsible for any use of your transceiver.
NOTE2: Please note that manufacture warranty in most cases is void when the device is modified!
NOTE3: Under no circumstances will Pileup release any information on how to apply the Frequency Extension mod. In most cases this is a requirement of the manufacturer. 
If you have remaining questions, consider submitting a support ticket. After-sales product support is offered exclusively to Pileup's customers. We provide support for items ordered in the following stores; PileupDX.com, SunSDR.eu, Xiegu.eu, Lab599.eu and direct sales by Pileup AB. If you bought your product elsewhere, your need to contact your dealership for support.
Please create a support ticket to contact us, log in as a guest or register below to get started.