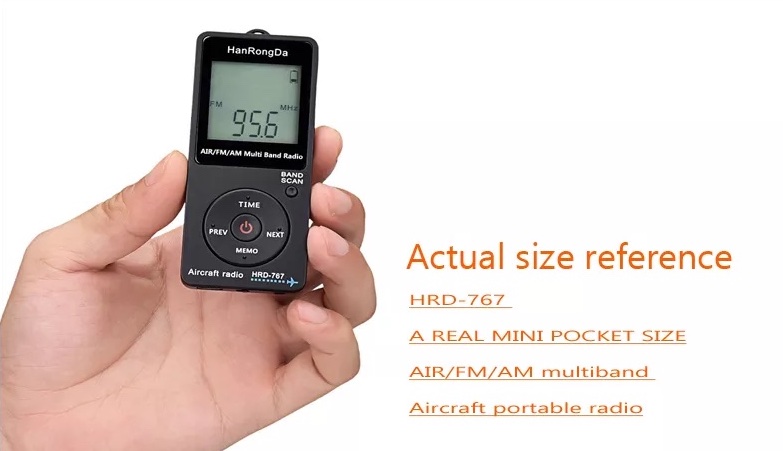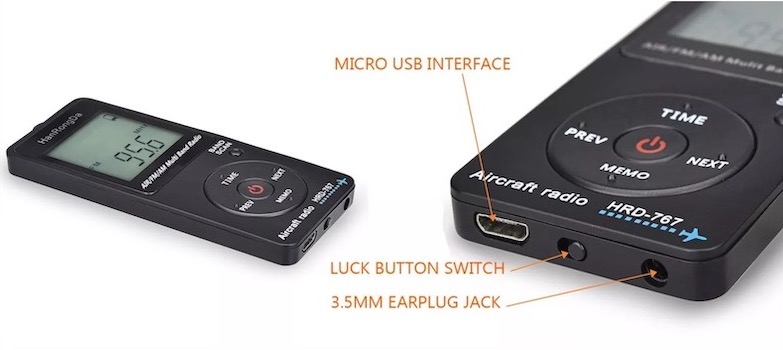 HRD-767 Unique Features
Mini size, net weight: 31g, easy to carry in pocket and chest

.
Built-in 400MAH lithium battery, long battery life.
High sensitivity reception, AIR/FM/AM.
Large screen LCD digital display (size: 28.5×28.5mm) :
Display: audio point, volume, band mode, time, battery symbol, charging symbol.
LCD with orange backlight for night operation.
Large chip capacity can store 120 radio stations (FM band: 50 /AM band: 20 /AIR band: 50), and related machine memory.
Storage mode of radio: 1. Automatic storage station; 2.2: manual deposit desk.
Search mode: 1. Manually search station; 2.2: automatic search;3: automatic search
Auto-shutdown function for 90-80-70-60-50-40-30-20-10 minutes can be set.
The hour system is optional: 12 hours or 24 hours.
The lock key is designed to avoid the wrong operation.
The intermediate step value of 9KHZ/10KHZ can be adjusted by the user according to the needs of the country.
Support MUTE function and noise shield function.
HRD-767 Specifications
Frequency range

AM: 522-1620 KHZ(9KHZ)/ 520-1710KHZ(10KHZ)
FM:76-108MHZ
AIR:118-138MHZ

Receiving sensitivity

AM: ≤20mV/m
FM:8Uv
AIR:2uV
Production size
90x39x7mm
Lithium battery
400Mah 3.7v
External power
DC 5V
Minimum operating voltage
3.3V
External earplug
Φ3.5MM/32ΩX2
HRD-767 In the Box
1x Stereo earplugs
1x USB charging cable
1x Hanging rope
1x Operation manual
1x Storage bag