The ModMic 4 is the perfect solution for DXing and contesting. Attach it you your favourite noise cancelling headphones and you have the perfect ham radio headset with a high quality communications microphone. Its characteristics makes it pick up more of you and less of the room by attenuating the background noise from amplifier fans, street noise, other operators etc.
The ModMic 4 works with any radio supporting an electret microphone by supplying a bias voltage on the microphone connector. It connects directly to the SunSDR2 PRO, SunSDR2 QRP and MB1. It also connects directly to the Elecraft K3 and other transceivers with a 3.5 mm stereo tele jack. And it work with most other popular transceivers using one of several available adapters, pick one for your transceiver here before checking out your ModMic order.
See this application note describing how to set your EQ for the SunSDR2 PRO, SunSDR2 QRP and MB1 transceivers to get that crisp and punch when busting pileups.
Eliminates Background Noise
The ModMic 4 features the same noise-reducing uni-directional microphone found in our premium ModMic 5. This design only lets in sound from one direction, radically reducing or eliminating noise that comes from other sources in the room.

Patented Design
The ModMic 4 features a patented magnetic clasp system that allows you to easily attach or remove your ModMic from any headphone. Strong when it needs to be, the clasp system is fully adjustable to suit your use.

Proven Performance
The ModMic 4 is used everyday by DX and contest operators all over the world, and by major DXpeditions like 3B7A. Featuring the performance of the noise-canceling microphone and Antlion Audio patented design, the ModMic 4 is a great boom mic for your next DX headset.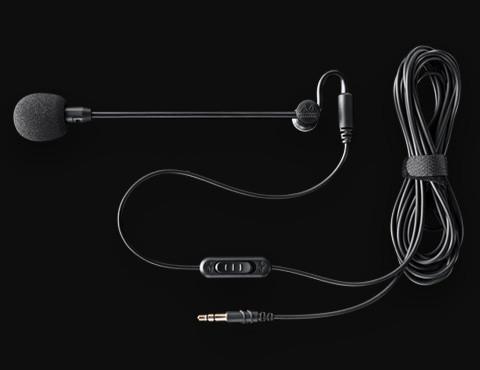 ModMic 4 contents
One ModMic with noise-canceling microphone
Two base clasps, one top clasp with cap
One extra adhesive pad for re-attachment of base clasp
One foam pop filter
Carrying case
Alcohol wipe
5 cable clips
Instructions
ModMic 4 specs
Jack: 3.5mm plated TRS for use with SunSDR2, SunSDR MB1 and PCs. Also workes with Elecraft K3 and other radios.
Cable: 3.3 meters length, 2.5 mm diameter, coaxial shielding.
Boom: 175mm max length, very bendable with internal steel spine.
Clasp: 12.7mm (0.5 inch) diameter circle adhesive pad footprint, ~17.5mm total height of attached clasp assembly.
ModMic 4 Microphone capsule specs
Pattern: Uni-directional
Sensitivity: -38 ± 3 dB
Response: 100 Hz–10 kHz
SNR: >50+ dB
Impedance: 2.2 KΩ
Operating Voltage: 1 to 10V
Max current at 2.0V: 500 µA
Max input SPL: 110 dB
Tip: Want to make your own adapter? Follow this link to G4WPW's collection of microphone connections for most radios on the market.