Big News from Icom! This information video about the new Icom IC-905 was released this morning 01:10 UTC.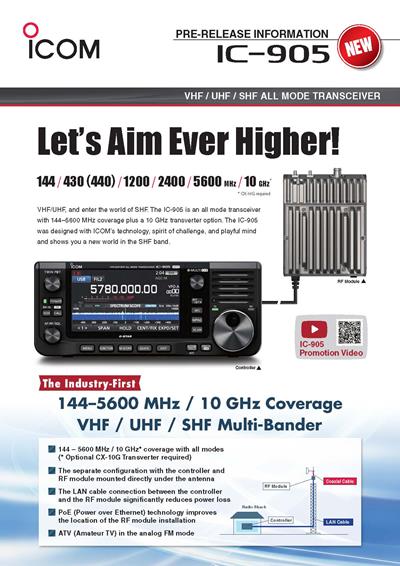 VHF/UHF, and enter the world of SHF. The IC-905 is an all mode transceiver with 144–5600 MHz coverage plus a 10 GHz transverter option. The IC-905 was designed with ICOM's technology,  spirit of challenge, and playful mind and shows you a new world in the SHF band.
Main Features
Output power is 10 W on 144 / 430 / 1200 MHz,
2 W on 2400 / 5600 MHz and 0.5 W on 10 GHz
4.3 inch large color LCD touch display
A high-performance real-time spectrum scope and waterfall display
The real-time spectrum scope can be adjusted for various band spans
Easy digital mode settings
SD card slot
High-performance GPS antenna supplied
GPS 1 pps signal frequency management
Full D-STAR functions (DV/DD Mode)
ATV (Amateur TV) in the FM Mode
USB connection for PC and mobile
CX-10G, 10 GHz Transverter, available as an optional item
More information to follow as it unfold.